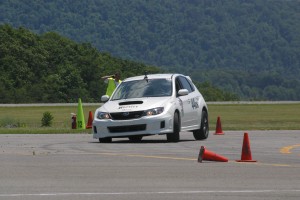 First off, let me apologize for being so late with the report. The Universe (by which I mean work, family, etcetera etcetera) has been conspiring to keep me away from my writing duties. Well that and I figured if I waited long enough, everyone's memories would be hazy enough that I could write whatever I wanted and no one would be able to argue with it. So here goes:  last weekend, I was the best and the fastest and was declared best autocrosser ever by a unanimous vote. The end. Don't believe me? Too bad.
Wait, what's that? There are records and other write-ups of the event all over the Internet? Crap. Well, never mind then, here's what really happened…
Once a year, the organizers at Cumberland Airport Autocross like to give us a chance to stretch our collective legs, and go just a little faster than is the norm in the sport. Last weekend was that event, the tenth annual Historics weekend at CBE, featuring Saturday's (in)famous Long Course. Cumberland regulars and newbies alike headed to the mountains for a weekend of warm sun and fast cars.
Paul and I made our way out west Friday afternoon, taking advantage of my flexible work-from-home Fridays summer schedule to beat the traffic, and were checked in at the Slumberland and seated with a beer (or a Scotchy Scotch Scotch, in Paul's case) well ahead of our usual schedule. Having had to miss the Ice Breaker, this was my first trip back to the area since last October, and I was anxious to make up for lost time—and apparently, I wasn't the only one. Our group—made up of the usual mix of Cobra drivers and Team-Zip Tie members, as well as a few special guest stars—quickly took over the outside patio as we consumed drinks, caught up, and played pranks on each other. There was seat stealing, watering-down of drinks, and the general mocking of friends. It felt damn good to be back. We were even treated to the appearance of everyone's favorite waitress, Nicki, who must be a glutton for punishment, because she deigned to sit down and join us for a few drinks after her shift ended. The reveling finally began to die down, and I was in bed slightly after midnight—a very late night when you have to be up before the sun to race.
The next morning, the effects of that late night were palpable. We had a subdued breakfast at McDonald's (Egg McMuffins with a side of Aleve) and made our way to the airport. Due to the event's reputation and the lengthier course, registration was limited to 78 participants, and the number of runs was cut in half to a measly three. The course stretched for nearly a full mile, heading past the usual turnaround point of the Trooper Five Hanger to find common ground with the courses of the SCCA club racing championship series that ran at the airport between 1953 and 1970. Saturday's course was not only long, but was vengeful and punishing as well, littered with booby-traps of sharp corners and offset cones designed to make the unobservant driver pay with cone calls and off course runs. In fact, a total of five drivers were unable to get a single on-course run and finished the day with a DNF.
Meg and I were the first members of Team-Zip Tie to get a shot at the course. Maybe I'd been away from Cumberland too long, but I needed some time to shake the cobwebs out, and three runs proved too few for me to get my act together. I finished the day fourth in D Stock with a wretched 84.276, well off the pace Paul would set for the class in the third heat. Meg had a much better day, finishing with a best time of 83.291 in her Miata, winning her class by nearly two full seconds.
Second heat action saw Rich and Joe take to the tarmac. Rich piloted his Corvette to a second-place finish in B Stock with a time of 80.687, and a total of two cones. For Historics Weekend, Joe struck a bargain with Jake Moran—he could co-drive the infamous Subie Suxass, but he had to provide the tires. A fair deal, and it gave Joe the opportunity to put a little bit of his namesake Mustang to good use, strapping his once and future race car's wheels and tires onto the Sux. Joe finished the day with a 72.745, good for seventh out of ten cars in XP. He fell short of his co-driver Jake, who was on a tear, and finished second in the class and fourth overall in raw time.
Third heat, that of all the loud Cobras, featured Paul in the Przywhiney family WRX, and Mike Moran in one of the aforementioned loud Cobras. Mike took his red (Burgundy? Maroon?) Cobra out and ran a 69.882, though not without a couple of cones, splitting the cone award for the day with Rich. His time was good for third in XP, and eighth in raw time.  Paul took to the course and promptly stomped all over my time (though given my performance in the first heat, I predicted as much) and finished with a class-winning time of 72.907. At the end of the third heat, Paul was at the top of the heap in PAX, which you may have heard (from Paul right at that moment) that PAX is the most important metric. He was singing a decidedly different tune at the end of the day however, when Randy Pearson and his Z06 Corvette edged him out for the top spot. But who cares about PAX anyway, right?
Doug rounded out the Zip Tie roster in the fourth heat, bringing the Art Car Audi out for a spin (metaphorically speaking). Doug took his class handily with a 77.473. Racing concluded mid-afternoon, and rather than return to our hotels to shower and clean up like civilized people, we sought shade and company in the paddock, where we all shared stories of the day, and generally continued our antics of the night before—though in a more reserved (i.e., hungover and dehydrated) fashion. We had a few surprise guests—team member Andy Thomas was unable to race due to work, but he popped in to say hi. In addition, my best friend Gill came out for her second autocross, this time with her fiancé Adam (Kramer) in tow. Wade must have done something right when Gill rode along with him at Fed Ex a few weeks ago, because I think she's got the bug, and brought Kramer to see an autocross in the hopes of infecting him too. They're getting married next month, but once they're back from the honeymoon, I think we might be seeing a couple of new recruits.
While some went to the dinner in downtown Cumberland, others of us chose to unwind with some Mexican food and pitchers of margaritas at El Canello in Frostburg. Naturally, being a restaurant with hot sauce readily available, the braver/dumber among us consumed some, because at heart, we're just a bunch of twelve year olds. Afterwards, we returned to Henny's for the remainder of a very subdued evening. The highlight of the evening was Paul's proposal to Nicki with her own butterfly ring (she said yes).
The next morning, we found a course that was significantly shorter than the day before, though what remained was a close approximation of what we'd already seen. The familiarity of the course coupled with six runs for each driver promised a far more forgiving day. It certainly was for me. Up in the first heat, my driving returned to something close to normal for me, as I shaved off time and crushed a total of four cones (my first cone award of the year, thank you very much). I ended with a 51.492, and while—SPOILER ALERT—it wasn't enough to beat Paul, I did finish 26th in PAX (or someone named Kate Mewhenny did anyway) and overall, I felt good about my performance. My heat one buddy Meg found herself in a class by herself, and ran a 56.186 in an uncontested C Stock.
Joe once again got behind the wheel of the Sux in the second heat, and attempted to make some noise in XP. Unfortunately for him, that's a noisy class, and his 46.798 was only good for seventh place. Rich was third in B Stock with a 50.699, just a tenth of a second away from bumping off second-place Aaron Shumaker and his 2011 Evo. Paul's 48.324 gave him a decisive D Stock victory, and he ended the day fourth in PAX, despite not taking his sixth and final pass due to the discovery of a corded tire. The third heat also saw some exciting lead changes in the battle for FTD. After a few passes, Wade Chamberlain was able to take the top spot away from Matt Felten, but his (literal) victory dance was ended before he'd even parked his Cobra in grid, as Larry Casey grabbed FTD for himself on the very next run. Leads were traded and other fast drivers knocked on the door, but it was Greg Honeycutt and his Reynard who walked away with the prize in the end. Doug and the rest of the fourth heat closed out the weekend's racing festivities, though no one could touch the top time set in the third heat. Doug's 50.676 gave him the D Street Prepared class victory, and 36th place in PAX.
Then there was nothing left to do but change tires, load up and head home. Though in our case, heading home included a detour to Frederick to drop off our corded tire off with teammate/team car doctor Andy. Next up on the Cumberland schedule is Speedweek in July. I heard a rumor that Larry Casey and our very own Mike Moran will be reprising their roles as course designers for the event, so it should be a good one. Someone else will have to take over reporting duties though—Paul and I will both be MIA from this one. So good luck in July everyone, and see you in August!
Saturday (78 Entrants)
12 – Paul (2nd in PAX)
11 + 1 – Mike (14th in PAX – Cone Award Co-Winner with 2 cones)
10 + Joe (30th in PAX)
9 – Doug (34th in PAX)
8 + 1 – Rich (40th in PAX – Cone Award Co-Winner with 2 cones)
7 – Kate (52nd in PAX)
6 – Meg (53rd in PAX)
Sunday (71 Entrants)
12 – Paul (4th in PAX)
11 – Joe (23rd in PAX)
10 + 1 – Kate (26th in PAX – Cone Award Winner with 4 cones)
9 – Rich (31st in PAX)
8 – Doug (36th in PAX)
7 – Meg (62nd in PAX)
No Cone Award Winner for Sunday.
Current Team Standings
1. Joe (43 points)
2. Paul (36 points)
3. Mike (35 points)
4. Meg (31 points)
5. Rich (28 points)
6. Doug (26 points)
7. Kate (19 points)
8. Rob (0 points)
9. Andy (0 points)
10. Bill (0 points)
11. Patrick (0 points)
12. Thomas (0 points)